CeeD – where 'know how' meets 'can do'
You are here

You are here:
Home > Making Scotland's Future
Making Scotland's Future

In May, the First Minster announced two new initiatives aimed at the manufacturing sector:
First Minister's Award for Manufacturing Leadership

Low Carbon Manufacturing Challenge Fund
​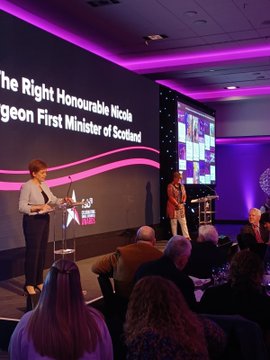 First Minister's Award for Manufacturing Leadership 
The
First Minister's Award for Manufacturing Leadership
recognises and celebrates competitive and innovative manufacturing companies who champion fair work and inclusivity while investing in the skills and wellbeing of their employees and contributing to a positive future for the planet. It is brought to life by Making Scotland's Future partners and Scotland CAN B, Scottish Government's national programme leveraging business as a force for good. Scotland CAN B supports the aim of the Scottish Business Pledge to boost productivity and competitiveness through fairness, equality and sustainable employment.
The Scottish Government aims to achieve inclusive and sustainable growth – that is, economic growth that fairly distributes the benefits of increased prosperity while protecting the planet and promoting positive economic opportunities for all. The Awards therefore welcome applications from all companies who can demonstrate the fact that inclusive growth and productivity are complementary aims – that business for good is good for business. This could include, for example, instances where work to improve employee wellbeing has also helped to improve productivity; where improvement programmes have noticeably increased participation and morale; or, where promoting social and environmental goals has led to stronger business outcomes.
Entry is open to all manufacturing companies based in Scotland via the online application form here, with entrants asked to demonstrate how their company has achieved inclusive and sustainable growth. A word limit will apply to each section. 
Applications will be open for one month before being reviewed by an initial sifting panel and then a final judging panel. It is planned that the winner will be announced during 2022.
The package of prizes on offer is designed to help businesses continue to grow and innovate, and includes:
A menu of tailored business support* from the National Manufacturing Institute Scotland (NMIS)

A consultation with the Scotland CAN B team on tools and methods to further leverage business as a force for good

Two places, together worth £2,500, on a delegation of industry leaders visiting an overseas advanced manufacturing site, arranged by the Scottish Manufacturing Advisory Service (SMAS)

One year of free Enterprise membership of Scotland House London, which includes access for all members of the winning organisation to Scotland House's hot desks, meeting rooms, event spaces and exclusive networking events

A bespoke award trophy designed by students on Skills Development Scotland's (SDS) Engineering Design and Manufacture Graduate Apprenticeships programme, in collaboration with NMIS, and made using advanced manufacturing techniques. This is to recognise and celebrate some of the skills initiatives put in place to bring through the next generation of manufacturers
Low Carbon Manufacturing Challenge Fund
Over the next four years, the £25m Low Carbon Manufacturing Challenge Fund will support innovative proposals to reduce our carbon footprint through manufacturing. The Fund encourages ideas to speed up adoption or development of low carbon products, services, technologies or processes and aims to reduce emissions from an industry which supports hundreds of thousands of jobs and accounts for more than half of Scotland's exports.
Scottish manufacturing business looking to grow through developing low carbon products, processes or services can apply for a LCMCF grant. The project can use pure Research and Development (R&D), capital investment or environmental aid support in its effort to speed-up the transition to a low carbon economy in manufacturing. There's a minimum value grant of £150,000 available. This grant is part of Making Scotland's Future activity, a programme led by Scottish Government and delivered by a range of partners to help Scottish manufacturers grow and thrive. 
As with other EU subsidy schemes, grant values will vary depending on the type of proposal – whether it's an R&D, a capital investment, or an environmental aid project. Once an amount has been allocated, manufacturers will be required to fund the rest of the project independently. Grants with a minimum value of £150,000 are available to cover eligible costs. 
Eligible ideas can include, but are not limited to:
The development of a new product, service or technology that will reduce emissions, energy consumption, waste production and decrease the use of raw materials in the manufacture, and/or end use, of the existing alternative

The development of new business models based on the principles of a circular economy. Through circular supplies, resource recovery, product life extension or use of sharing platforms, for example.
The challenge applies to companies based in Scotland. All companies must follow Fair Work practices.
Successful applicants will be invited to submit a full grant application.