CeeD – where 'know how' meets 'can do'
You are here

You are here:
Home > About
About
CeeD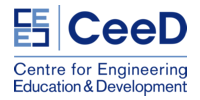 CeeD is a growing community of businesses and academics. We've joined together to pool our talents, expertise, experience and resource in the pursuit of operational excellence within our own organisations - and yours. In doing so, our aim is to improve operational efficiency and effectiveness – improvements that will impact the bottom line.
As a community, what binds us together is the common aspiration to improve operational efficiency, effectiveness and ultimately profit. We do this by pooling our collective expertise, resources, knowledge and experience to solve specific operational challenges and improve general operational performance.
Collaboration
Uniquely, the focus is in supporting CeeD member businesses through the very real challenges that they face daily. As such, CeeD's activities are driven by those member businesses which highlight those challenges to us. Property, planned maintenance and lean manufacturing techniques, energy, waste, training, marketing, health and safety, product and people development... think of us as a problem-solving network. We just don't know what'll turn up next but someone, somewhere within the community has the expertise or experience to help move your business forward – and is willing to help.
CeeD is about learning from each other, about sharing best practice, about collaboration. Ultimately, about improving the bottom line.