CeeD – where 'know how' meets 'can do'
You are here

You are here:
Home > Masterclass on Digital Commerce
Masterclass on Digital Commerce
Free Masterclass on Digital Commerce in partnership with SDI/Scottish Enterprise.
March 11th, 2021 10:00 AM through 11:30 AM
ONLINE EVENT
via Zoom
United Kingdom

We are delighted to host a new Masterclass in partnership with SCDI/Scottish Enterprise. With the increasingly digital landscape of e-commerce and digital marketing CeeD's new series of events will aim to help highlight some of the challenges and solutions.
The average human now spends over 100 days per year with their attention focused on the internet! We are all busy digital citizens - living in an increasingly noisy and hectic digital world.
Whether we are selling products and services to other businesses or to end consumers, the human decision makers we need to reach are busy digital citizens too - and there has never been more competition for their attention and trust.
No matter what we sell or who we are trying to reach, we must embrace the fact that an enormous share of our audience's attention is now focused online and finding meaningful and creative ways to interrupt some of that attention to get our ideas noticed.
Digital Marketing has never been more important - but it's easy to get the strategy wrong and waste a lot of time and money.
If you are interested in learning about a way to approach digital marketing that is both effective and operationally efficient, then join us on Thursday 11th March for this initial workshop, where we will explore some of the most common digital challenges and how to build an effective digital marketing system to cut through the noise, reach and engage your audience.
This event is part of the Advancing Manufacturing Cluster Builder programme which helps Scottish SMEs access the Advancing Manufacturing Challenge Fund (AMCF) projects whose aim is to have a significant impact on advancing the manufacturing capabilities of SMEs within Scotland, leading to long-term transformational change.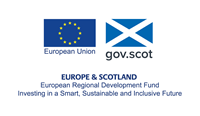 The Advancing Manufacturing Cluster Builder is part-funded by the 2014–2020 European Structural and Investment Fund.