CeeD – where 'know how' meets 'can do'
You are here

You are here:
Home > What is Gamification - and how can it help my business?
What is Gamification - and how can it help my business?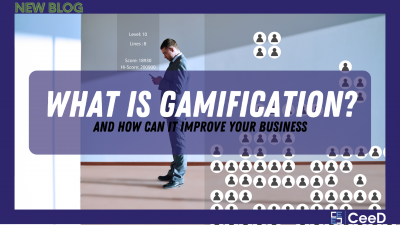 "In every job that must be done, there is an element of fun. You find the fun and SNAP! the job's a game."

  - Mary Poppins
Gamification is the use of game mechanics in non-game environments. For example, learning platforms for businesses, shopping applications, or charity fundraisers. Game mechanics can be things like rewards, rules, levels, leaderboards, progress bars and missions. The use of these tools have positive (or negative) effects on users and can encourage individuals to behaviour a certain way. It can also be used as an effective learning and educational tool.
So why does it work?
Gamification taps into both our intrinsic and extrinsic motivations. Achieving in-game rewards (extrinsic) and satisfaction of completing a task (intrinsic). Getting to the top of a leaderboard (extrinsic) and knowing you have mastered a skill (intrinsic).
And the best part? Gamification is fun.
Not only is it fun, many studies have found it is a far more effective way of improving certain behaviours, or teaching new skills. For example, gamification can increase workplace engagement by 48% and employee productivity by 90%!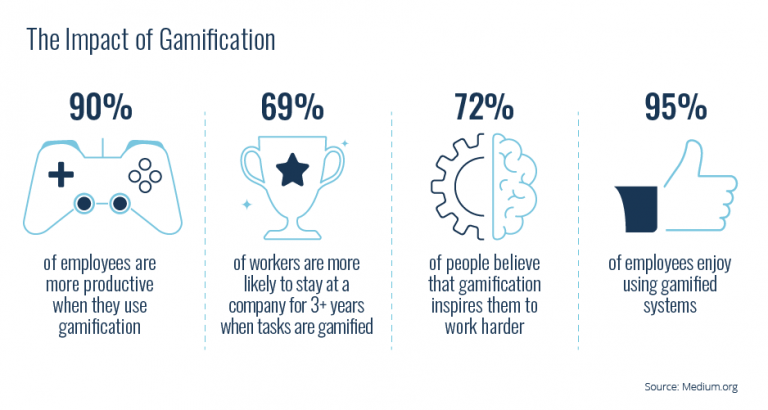 When learning something new, we can recall only 10% of what we've read and around 20% of what we hear.
However, a more interactive way of learning (like a gamified simulation) can help learners retain up to 90% of this knowledge.
Gamification has been used in schools as well as workplaces to teach new skills. It can also be used to practice these new skills in a safe and fun environment. In one of our recent events on AR and VR in manufacturing, we had a glimpse into how this works when the speaker from the University of Glasgow delivered a highly entertaining Virtual Reality presentation. We were transported to space, museums, the great wall of China, and shown historical artifacts up close. This interactive learning is far more engaging than a powerpoint slide.
This summer/autumn, CeeD will run four team-building and professional development workshops. These will be delivered using online games, developed by TeamVine. The games develop skills like teamworking, critical thinking, leadership, communications and many more.
If you want to find out more, check out our leaflet on the subject. These workshops are free, so register now to secure your place!