CeeD – where 'know how' meets 'can do'
You are here

You are here:
Home > Waste Naught, Want Naught
Waste Naught, Want Naught
A blog by Michael Groves, Topolytics and Joe Pacitti, CeeD
Along with the many issues we face globally, there is still the not-so-small, shared challenge of increasing carbon emissions and the use of finite resources. While the associated responses, be it the charge to NetZero and the rise of the circular economy, are gaining momentum – there is still a long way to go.
What do we mean by that?
The relationship between 'energy' and 'materials' is strong, but hidden and obscured through complex, often global supply chains.
The waste generated in our factories, distribution centres, retail sites, offices and other operational sites is a case in point. It has traditionally been seen as a legal compliance and an operational issue – material that is a by-product of operations and is handled by third parties. This is changing with concerns over raw materials supply chains, questions over 'what happens to my waste', a drive for greater operational efficiencies, a desire to recover and re-use material and greater legal scrutiny. On a global basis, there is significant amount of work to be done to reduce the more than 60% of the waste from our cities going to a landfill, waste dump or leaking into the environment.
The waste industry and the waste system has not traditionally been the domain of sophisticated data collection and analysis systems, but if we are to move to a more circular economy – this has to change. Data for engineering and manufacturing companies is one of our key future challenges. Efficiency and productivity gain of Industry 4.0 and impacts in improving the supply chain extend across the full cycle, including waste.
While the impact of waste that has leaked out of the system into our oceans and waste dumps is starkly evident, we also see the backlash against the recycling industry and its effectiveness. This points to significant problems in the waste and materials system. However, we see many companies that are driving resource efficiency, recovering and re-manufacturing products and materials and attempting to reduce waste at source.
We also see the need for systemic, data driven approaches across many organisations and many countries to address the waste challenge at scale.
Where can you get support?
Topolytics, a CeeD member, is acknowledged as leader in global 'wastetech' through the use of its analytics platform 'WasteMap®' by manufacturers, the waste industry and Government. The company is aggregating and analysing data at scale, to make the world's waste more visible, to make the data more verifiable and unlock value for those organisations creating and processing this material.
We are pleased to announce that Topoloytics and CeeD have joined forces with Innovate UK to bring WasteMap to a wider audience of manufacturers that see the potential to gain better visibility over their waste and by-product flows to promote cost and resource efficiencies, reduce carbon emission and drive this and other material back into their production systems.
This complements the range of low carbon and circular economy innovations deployed across the membership, including key partners such as Zero Waste Scotland and the Scottish Institute for Remanufacture as well as individual companies across many sectors.
Through the Innovate UK 'smart manufacturing' challenge, we are excited at the prospect of building a sustainable community of practice that can grow and expand. The industry lead on growing and maintaining a community of peer-to-peer sharing across wider and ever-increasing interconnected themes is encouraging to see, and highly aligned to the national Government and research funding pots.
We therefore invite any members with manufacturing or processing operations in the UK to join the project. If you want to gain a much greater insight into what happens to your waste, where it goes, how far it travels, how you can generate efficiencies, reduce associated carbon emissions and enhance your reporting – we would love to hear from you. 
Please get in touch with Lauren Zoryk to find out more.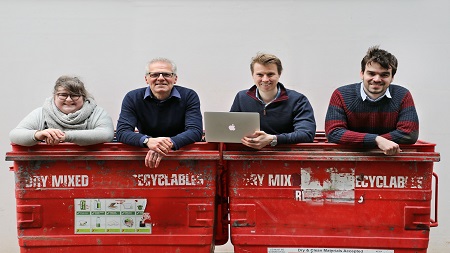 We're also planning an information session on this subject in the near future, so look out for more details through our usual channels.