CeeD – where 'know how' meets 'can do'
You are here

You are here:
Home > Utili-Tay launch party!
Utili-Tay launch party!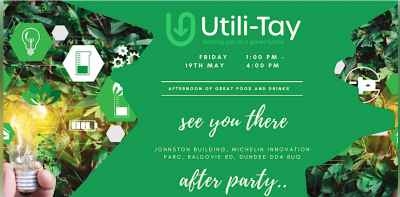 CeeD member, Utili-Tay, are holding an official launch party on 19th May in Dundee, as they officially open their new offices at the Michelin Scotland Innovation Parc!
Their "Carbon Hub" will provide demonstrations and share Utili-Tay's NEW and extended product range that will support businesses to reduce energy consumption.
Founding partners and creator of their NEW carbon monitoring product will share how the technology works and what it means to Utili-Tay's clients.
John Thomson from DC Thomson will be sharing why Net Zero is a key focus for the business, the journey they have been on to research the market place on the best solutions for the range of premises they have. 
Everflow will share tip tips for reducing water consumption and ways to maximise water efficiency. Water can be the forgotten utility cost for a business but it is still a cost that you can directly impact.
Utili-Tay believes it has a responsibility to support charities and communities and, to this end, they donate time, expertise and money on a quarterly basis to a nominated charity. TCCL and 58 Bonnygate will share the amazing work they do across Tayside and Fife for families faced with child cancer and leukaemia.
Technology, support and information is only part of the solutions. Utili-Tay also focus on the culture and mindset within the business, and have invited Jamie from YMindset to share his top tips on gaining employee and executive commitment and changing behaviours.