CeeD – where 'know how' meets 'can do'
You are here

You are here:
Home > Scotland Manufacturing Conference & Exhibition
Scotland Manufacturing Conference & Exhibition
The Scotland Manufacturing & Supply Chain Conference & Exhibition is taking place on 25th October 2023 at the SECC in Glasgow. As a Silver sponsor, CeeD will be exhibiting at the event as well as running a panel session on 'Lean'. 
This event is a premier platform that brings together various sectors, including Electronics Manufacturing, MedTech, Pharma, Bio and Life Sciences, Aerospace, Precision Engineering, Automation and Robotics, 3D Printing, IoT & Industry 4.0, Lean and Continuous Improvement, Supply Chain and Procurement, and Sustainable Manufacturing and Renewable Energy.
The conference will feature eight seminar stages with a range of speakers who will share their expertise, insights, and experiences on topics such as automation, high-tech manufacturing, lean and continuous improvement, 3D printing, sustainability manufacturing and food & beverage manufacturing.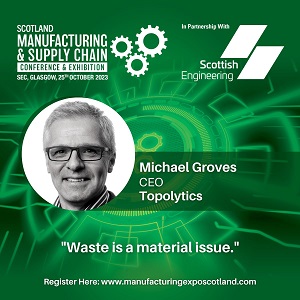 The speaker line up and full agenda is still being confirmed, but a number of CeeD members will be speakng at the event including Dr Michael Groves, CEO Topolytics, who will talk about "Waste is a Material Issue".
Visit the event website for more information and to register for free.