CeeD – where 'know how' meets 'can do'
You are here

You are here:
Home > Pathfinder course on aquaculture and animal health
Pathfinder course on aquaculture and animal health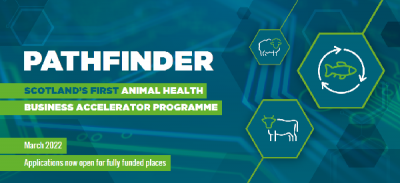 Pathfinder
 

- a 
programme made possible by a partnership between 
Highlands and Islands Enterprise, Skillfluence, and SRUC's 
centre of excellence for research and knowledge exchange in 
the rural and veterinary sector (RAVIC) - 
offers support to start-ups, existing businesses and entrepreneurs in the Highlands and Islands, via a 6 month programme of coaching, group sessions and expert speakers. It helps to accelerate ideas for new products, services or start-up ventures.
Their next cohort starts in March 2022 and will have a theme of aquaculture and animal health -
apply by 18 February 2022.
This is a unique opportunity for all businesses connected to animals or animal health to accelerate their ideas for new products, services or start-up ventures.
About Pathfinder
The focus of the programme is to deliver rapid, practical results 
for ambitious businesses with new ideas. Participants are taught
and coached by a team of leading experts from the worlds of 
innovation, product development, finance, and business strategy,
In addition, they will pitch to Angel investors and receive 1-2-1 
coaching to rapidly de-risk and commercialise their ideas.
Fully funded places are available for companies based in the 
Highlands and Islands region. The programme is for existing 
businesses, social enterprises, entrepreneurs and start-ups who 
have ambitions to grow by developing new products services 
or business models. This includes businesses developing 
technologies to recover from the COVID-19 pandemic.
If you aim to improve health, welfare or production efficiency in 
animal agriculture or aquaculture, offer solutions around the 
concept of a circular economy, support the transition to net zero 
carbon agri-food systems or address public 
health and social 
inequalities then Pathfinder may be for you.
Find out more