CeeD – where 'know how' meets 'can do'
You are here

You are here:
Home > Flexible Working in Manufacturing - Case Study #1
Flexible Working in Manufacturing - Case Study #1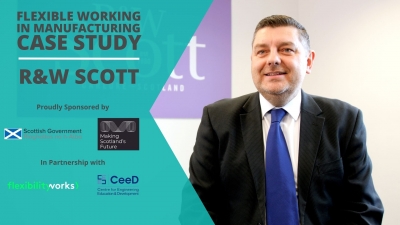 CeeD and Flexibility Works were delighted to be commissioned by the Scottish Government to deliver a 'tester' project in order to begin to identify, capture and share examples of flexible working within the manufacturing sector, specifically in frontline (non-office) roles. 
This follows on from a number of collaborative activites we have run over the past year or so to explore the feasibility and examples of how and where flixible working practices have been tried and/or implemented in a range of manufacturing organisations.
Case Study #1 - R&W Scott
Based in Carluke, R&W Scott offers a full range of innovative, high-quality branded and own-label products, including confectionery fillings, jams and marmalade, for retail, foodservice, and wholesale customers worldwide. The key focus for this case study was their overall proactive approach to flexible working for their operators, getting to know their people and their life circumstances and trying to makeshift patterns work for the person, for example reducing hours, constant day shift or a shorter twilight shift. They were the first UK manufacturer to sign up to the Living Hours initiative which clearly supports the work life balance of workers.
In this video R&W Scott, a food manufacturer with over a century of expertise in creating indulgent ingredients, outline how their proactive approach to flexible working and living hours has benefitted the company.