CeeD – where 'know how' meets 'can do'
You are here

You are here:
Home > Cyber Security: Time to Change
Cyber Security: Time to Change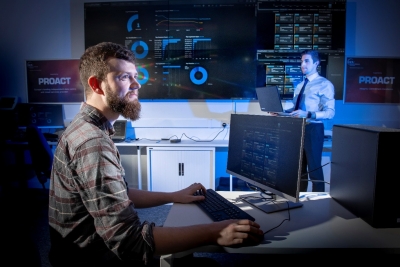 Cyber Security: Time to Change
In a period of accelerated change where security experts predict a 40% increase in cyber-attacks, there has never been a greater need to protect your business and develop your cyber security capability.
Address the cyber security skills your business needs through a fully funded BSc (Hons) Cyber Security or MSc Cyber Security Graduate Apprenticeship Programme at Glasgow Caledonian University starting in September 2020.
Both courses make use of the latest technologies ensuring participants are operationally equipped to tackle a broad range of IT security problems and develop innovative solutions for application in the workplace.
BSc Hons Cyber Security Graduate Apprenticeship
Operational staff in communication networks, security engineering and digital forensics represent one in three of all jobs in the IT Sector. Many businesses need to recruit and upskill employees across these areas. If you are looking to increase the talent pipeline of new and upskilled Cyber Security personnel in your business, GCU's BSc (Hons) Cyber Security Graduate Apprenticeship is an excellent way to grow operational cyber security capability in-house.
The programme will produce graduate-level operational staff with the knowledge and ability required to work in an increasingly complex industry. The course will equip participants with the technical, analytical and evaluation skills required in all areas of digital forensic investigation, including ethical hacking, intrusion, detection, data recovery and security systems.
Learners will gain an understanding of the required standards and professional ethics to enable them to consider the business impact of effective cyber security decisions. The course also explores the nature of digital evidence and issues surrounding the law and computer crime.
MSc Cyber Security Graduate Apprenticeship
If you would like to develop your cyber security leaders' capability to work strategically and operationally across the whole business. Then the MSc Cyber Security will enhance the skillset of your security expertise and elevate your service capability to a more sophisticated level, particularly following the impact of the coronavirus pandemic and the surge of remote working.
The programme will equip senior people with the technical knowledge and skills needed to secure organisations against the current threat environment.
On completion of the programme, participants will be able to lead strategically and operationally. They will be able to plan and execute a variety of security strategies, research, analyse and evaluate technical threat intelligence and to reduce cyber security threats and vulnerabilities. They will be able to troubleshoot issues arising from vulnerability scanning and design cost-effective mitigations comprising careful combinations of technical, procedural and administrative controls.
How to apply?
All Graduate Apprenticeships are fully-funded by Skills Development Scotland; skills, knowledge, academic qualifications and experience of current employees will all be used to assess applications suitability for these courses. Find out more information on each programme and how to apply at the link below.
Graduate Apprenticeship BSc Cyber Security
Graduate Apprenticeship MSc Cyber Security
For more information please email ronnie.beattie@gcu.ac.uk, alternatively please call 0771 4715286