CeeD – where 'know how' meets 'can do'
You are here

You are here:
Home > CeeD celebrates Women in Engineering
CeeD celebrates Women in Engineering

To mark International Women in Engineering Day, CeeD ran an event at Forth Valley College on 23rd June to celebrate the achievements of female engineers in the CeeD network.
This included Dr Carol Marsh,  Head of Digital Systems at Celestia-UK and a Visiting Professor at Edinburgh Napier University, who shared her hugely impressive career and achievements with us all. Carol has worked in the field of electronics for over 35 years, specialising in programmable logic.
She is a volunteer for the Institution of Engineering and Technology (IET), where she is the Chair of the Council, Chair of the Engineering Policy Group Scotland, a Fellow Advisor and a Professional Registration Advisor and Interviewer. She is also Past President of the Women's Engineering Society.
Carol is also a winner of 7 technology and diversity awards and in 2020 was awarded an OBE for Diversity and Inclusion in Electronic Engineering.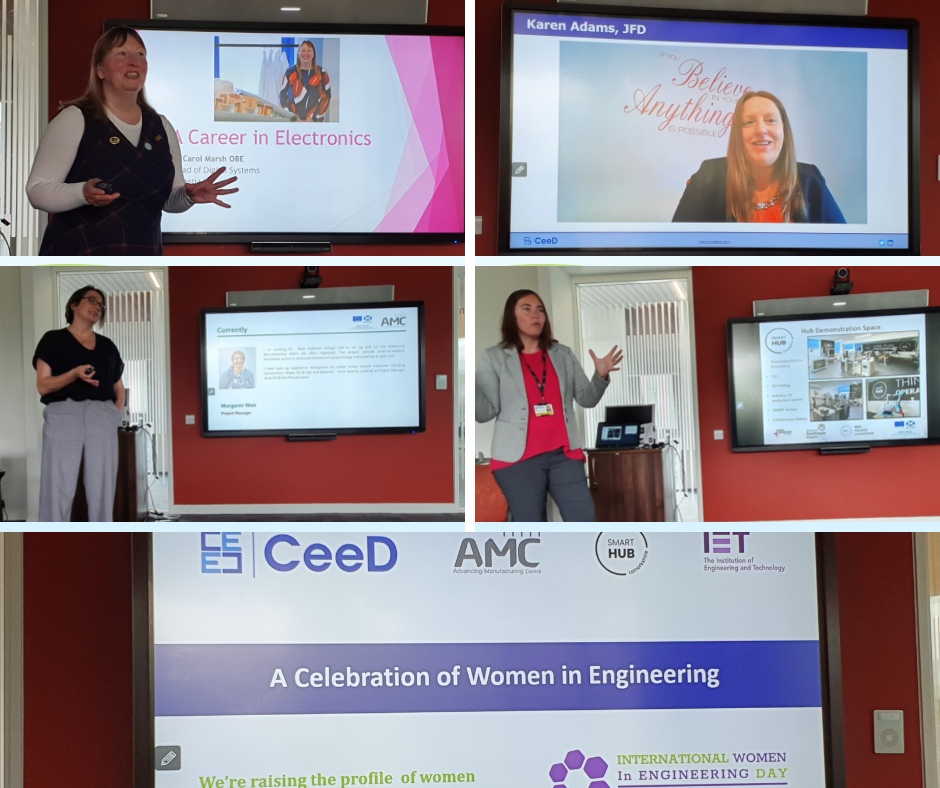 Former winner of the CeeD Woman in Industry Award,

Karen Adams, Expert for Engineering and Operation at Excellence at JFD

, 
provided a video message and spoke about how much she "loved being a fiercely proud, female Scottish engineer" and that engineering is an incredible industry which offers so many different opportunities to people from very different backgrounds, as well as the value CeeD adds in bringing business together for events such as these.
Karen's advice to any budding engineer is:
"To succeeed in engineering you need to have a good work ethic and be prepared to work hard and be prepared to learn and to keep learning".
We also heard from Margaret Weir who is the Project Manager at the Advancing Manufacturing Centre in the West Highlands. Margaret spoke about how she faced a number of barriers since school as a result of her dyslexia, including suggestions by her careers adviser to follow a different educational and career path than the one she wanted. And, through her own strong determination with supportive parents, she became a Chartered Engineer and has gone on to achieve a varied and successful career spanning industries such as Construction, Water, Oil & Gas, Batteries and more.
The session rounded off with Caroline Brown, Project Manager for Smart Hub Lanarkshire and the work North Lanarkshire Council is doing with schools to encourage young women into engineering, dispelling a few myths along the way about how different it is to work in a manufacturing setting today.
With far cleaner working environments nowadays, and an array of opportunities including robots and cobots (collaborative robots) to programme and manage, a career in manufacturing and engineering is a very exciting prospect indeed these days - for both male and female engineers.
Future Events
We had a great turnout at this event with over 35 in attendance, including from Booth Welsh, CCL Design, DPS Group, Horizons Unleashed, Invent Design Build, MItsubishi Electric, Net Zero Nation, NMIS, Peak Scientific, Plexus Corp., Skills Development Scotland, Star Refrigeration and Volvo Rokbak.
This event was certainly not a one-off and we'd like to run a number of events with a women-in-engineering focus. If you'd like to be notified in advance about these, or indeed would like to be a speaker at a future event, please contact Victoria Souter.