CeeD – where 'know how' meets 'can do'
You are here

You are here:
Home > Blog: Developing your digital talent pool with The Open University in Scotland
Blog: Developing your digital talent pool with The Open University in Scotland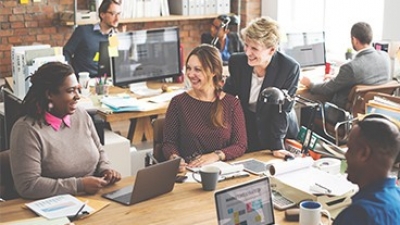 Blog extract by Suzanne McQuade, Buisness Relationships Manager (Scotland) at The Open University
In partnership with CeeD, Suzanne McQuade and her colleague Jane Dickinson (Digital Skills Lead for The Open University), delivered a live webinar last week on the digital skills gap.
"Between us, we discussed the latest statistics emerging from UK business about the threat posed by the digital skills shortage and outlined five opportunities that The Open University (OU) provides to help businesses to upskill and reskill their workforce."
The digital skills gap in Scotland
Equipped with an expert insight into the latest research on digital skills, Jane discussed the growth in IT recruitment, the challenge of recruiting IT-qualified candidates and the negative impact the digital skills gap has on Scottish business.
In 2019, digital skills shortages cost Scottish businesses £361m
74% of Scottish businesses recognise that the digital skills gap has a negative impact on their profitability
50% say it impairs their ability to implement new or cost saving technologies
30% say they struggle to recruit due to a shortage of IT-skilled applicants
(Business Barometer, 2019; Bridging the Digital Divide, 2019)
With IT and digital roles accounting for 10% of the jobs advertised in the UK - and 13,000 new digital jobs being created in Scotland every year (Burning Glass Labour Insights Quarterly Survey; Skills Development Scotland) - current training methods are failing to keep pace with the growing demand for IT professionals.
This is not good news for the 20% of Scottish businesses expecting to recruit digital talent this year (ScotlandIS Scottish Technology Industry Survey, 2020).
Technology has proved integral to business continuity during the pandemic and is expected to be a key driver of post-lockdown recovery. This means demand for qualified candidates – which is currently experiencing a dip due to lockdown – is predicted to increase.
Read the full blog, including challenges and how the OU in Scotland can help with reskilling, including in-work training here.