CeeD – where 'know how' meets 'can do'
You are here

You are here:
Home > Blog - CeeD talks to CB Technology
Blog - CeeD talks to CB Technology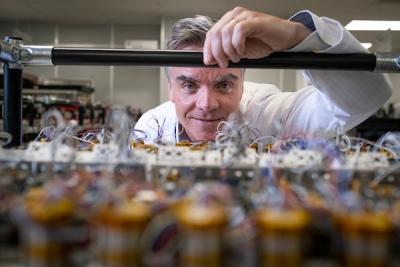 CB Technology Ltd (based in Livingston) has been a member of CeeD for just over 2 years. CB Technology Managing Director, John Cameron (pictured above), talks to us about their £25 million expansion plans and how having firm financial foundations is not only enabling them to survive the Coronavirus storm but also enabling continued growth in the years ahead.
In a nutshell, what does CB Technology do?
We are an Electronics Manufacturing Services (EMS) company, what many people historically called a 'Contract Manufacturer'. In simple terms, we manufacture other companies' products for them. The core of what we do typically starts with electronics, however we provide the full range of manufacturing services right up to final unit build, testing and shipping direct to our customers.
How has your business coped during the pandemic?
Along with the rest of the world, Covid-19 hit us unplanned and in many unexpected ways. The uncertainty within the global economy and the resultant drop in demand and confidence was the biggest initial challenge. Our focus from the start (and right up to this day) was in two key areas: employees and customers.
From an employee perspective it was all about ensuring they remained safe and secure at all times (both mentally and physically), and from a customer perspective it was about staying close to them, and ensuring that we were considered as a potential solution to their challenges, rather than a burden.
As a business, we remained open right through the pandemic, in order to support both our employees and our customers. We are a supplier to a number of critical sectors (energy infrastructure and medical), and therefore it was critical that we remain operational and supportive through the pandemic.
I am pleased to report that we have been able to retain all our staff through this challenging period, and our unplanned absence (sickness) levels have actually gone from an annual range of 2-3% to virtually zero.
The company's strong relationship with our supply base, together with our prudent financial discipline, has also enabled us to balance supply and demand during the lockdown and to manage costs accordingly.
How have you been able to grow your business while many other businesses are struggling right now?
We have consistently delivered on the long-term strategic plan that we implemented when we bought the business back in early 2015. This enabled us to grow the company from ~£3M when we acquired the company to the £10.7M revenue we delivered in our latest financial year (ended March 31st). As a result of this we were in the strongest possible position when the pandemic hit us earlier this year.
This, together with the expertise and backing of Maven Capital Partners put us in the position, to be able to plan and manage our way through the situation without the pressure of having to take any unnecessary short-term decisions. Our focus has been on working through the situation, with at least one eye focused on the future, and the post-Covid world and opportunities. 
How do you plan to further grow your business to £25M?
Firstly, we need to continue to keep on doing what we have been doing; which is focus on continually upgrading our equipment and process as well as ensuring we retain a high focus on our employees and their personal and professional development.
Equally as important is the continuation of our customer focused model; over the last few years we have significantly increased our resourcing in the front-end 'customer facing' part of our business…..that has been highly appreciated by our customers and we have already seen many positive outcomes as a result of this.
In response to the pandemic we also launched a significant marketing and social media initiative, focused on providing our customers (and potential customers) with a range of insights and aids focused on helping them navigate through these challenging times. We are delighted to report that this initiative has already identified a number of new business opportunities for us.
To deliver our target of "25M (sales) by 2025" we will need to deliver both organic and inorganic growth. Over the last 5 years we have established a proven record of delivering organic growth, and we have now reached the scale and business maturity where M&A becomes a very interesting and realistic approach to drive further growth. This is an area where we will increase our focus and activity over the coming years.
Finally, how has being a member of the CeeD network benefited your business?
For me, CeeD is exactly what it 'says on the tin', a wonderful, aspirational, collaborative community. The ethos of CeeD is to get similarly like-minded people together, with a positive energy, focused on solving a problem or creating an opportunity, and I think it does that brilliantly. The CB Team and I have benefited tremendously from the CeeD resources and network over the last few years, and access to this type of support and insight has undoubtedly been a key part of the success of CB Technology.
CeeD Managing Director, Joe Pacitti, added:
I would support the positive growth aspiration of CB Technology on behalf of all CeeD members.
We are glad that we will all be able to watch their progress over the coming years as colleagues and partners in learning and sharing. Since joining CeeD, CB Technology have fully embraced the spirit of peer-to-peer sharing and have become strong and regular participants at events workshops and learning sessions.
We are looking forward to working with them on their expansion journey and we fully expect John and his team to be active in their engagement in the Advancing Manufacturing Cluster Builder programme, as well as core CeeD activity.