CeeD – where 'know how' meets 'can do'
You are here

You are here:
Home > From 3D printer to international catwalk
From 3D printer to international catwalk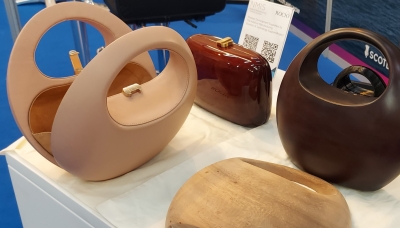 It's a new era for fashion as the National Manufacturing Institute Scotland (NMIS) opens doors for sustainable catwalk-worthy fashion accessories created using 3D printing technology.
Following a research and development project with the Renfrewshire based research centre, which is operated by the University of Strathclyde, a reinvented signature ROCIO handbag is set to debut at Paris Fashion Week next season in March.
Founded in Scotland, ROCIO is a luxury eco-fashion brand renowned for its decorative handbags, which are traditionally individually sculpted from harvested acacia wood over a meticulous 19 stage process. Celebrities including models Irina Shayk and Kate Upton as well as actress Susan Sarandon have all been photographed wearing the handbags.
The brand was eager to explore new, sustainable ways of manufacturing and combine the technological capabilities at NMIS with its own craftsmanship to develop the inner structure of the bag that could be used as the basis for luxury fabric coverings.
Read more on the NMIS site about how the collaboration began and the capabilities of additive manufacturing.