CeeD – where 'know how' meets 'can do'
You are here

You are here:
Home > Scott & Fyfe
Scott & Fyfe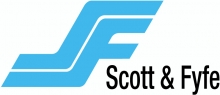 The Scott & Fyfe Group is an independent, employee owned industrial textile manufacturer. Based in Scotland, we are global providers of innovative textiles and technology. Currently covering a variety of markets, we offer product ranges that include:
Stitch bonding and warp knitted fabrics which include Textron for rubber underlay backing
Loop fabric for the technical and abrasive manufacturing industry
Advanced glass fibre reinforcement materials for the FRP industry
Woven fabrics for agricultural applications
Knitted fabrics and 3D spacer fabrics for the automotive industry
Over its 140 years, Scott & Fyfe has established huge expertise in what we do. It is this that keeps us at the forefront of the industry through continual innovation, investment, service and people.