CeeD – where 'know how' meets 'can do'
You are here

You are here:
Home > Pivot International
Pivot International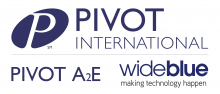 Pivot International is a global product design, development, and electronics manufacturing firm with over 50 years of experience. We operate globally with offices throughout Europe, Asia, and North America. We leverage strengths in more than a dozen areas of specialisation, ranging from engineering and design to prototyping through full scalable manufacturing to global supply chain and regulatory compliance.
In 2018, Wideblue joined the Pivot International group of companies. Wideblue specialises in helping companies take a product idea through full commercialisation and has particular expertise in photonics, optoelectronics, and medical device development.
A2E joined Pivot International in 2019 and specialises in electronics hardware and software design, taking products from concept through testing and volume manufacturing. They have particular expertise in designs for hazardous areas (ATEX) and the oil and gas industry.
Pivot International: https://pivotint.co.uk/
Wideblue: https://www.wide-blue.com/