CeeD – where 'know how' meets 'can do'
You are here

You are here:
Home > Millard Consulting
Millard Consulting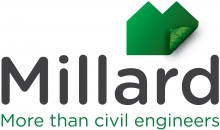 T.A. Millard (Scotland) Ltd was founded in Perth in 1986 and has developed and expanded its activities across Scotland with office locations in Dundee, Perth and Aberdeen, though we operate throughout the country. Re-branded in 2015 as Millard Consulting, the company's commitment and enthusiasm coupled with a unique understanding of each market in which it operates and its financial independence has enabled the development of a solid reputation in a highly competitive industry.
With ISO9001 and ISO14001 accreditation we combine quality assured and sustainable business practise with the highest standards of service to our clients. Through our experience, innovation, reliability and understanding we achieve a high level of repeat business. Our reputation has been earned by proving the company's core strength in the provision of a range of skills centred on our key expertise of infrastructure and structural development.
We listen to our clients and involve senior, experienced staff on all projects to enhance knowledge capture and understanding of client requirements. By clearly defining objectives, we ensure delivery of the appropriate service, which has led to an established track record across many sectors, with major blue chip clients and professional consultants.
We provide in-house expertise for every aspect of development. From concept feasibility to planning approval. From infrastructure design to adopted roads and utilities. From structural design to SER certification for building warrant. Small or large our engineers help deliver a client's development goals, from pre-feasibility through to commissioning, operations and maintenance. Specialist services such as flood risk assessments; transportation assessment; Environmental and contaminated land are other areas of our business where we can provide expertise for our clients.
Our staff are busy engineering local and regional developments for public and private sector clients, including homes, schools, waste transfer stations, hotels and pharmaceutical manufacturing. We are retained on framework contracts by Hillcrest and Perth & Kinross Council and regularly work with major regional developers on large housing and new settlement projects.
Our key focus is to enable added value by assisting clients to find innovative and sustainable development solutions. Come visit us on www.millardconsulting.co.uk .