CeeD – where 'know how' meets 'can do'
You are here

You are here:
Home > Jerba Campervans
Jerba Campervans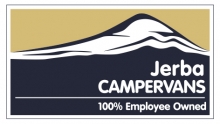 Jerba Campervans is a specialist vehicle conversion company for both Volkswagen UK and Ford UK, holding official converter status with both these leading brands. We currently offer conversions across the VW Transporter T6, VW Crafter and very soon the New Ford Transit Custom/VW T7, VW ID Buzz and VW Multivan.
Established in 2006 our conversions are built with a safety first policy and we hold full Type Approval from the Vehicle Certification Agency across our range of campervan conversions – these conversions are also fully tested and approved by the industry body, the National Caravan Council.
Recognised as one of the UK's leading high end campervan converters we are now at a stage in our growth and development where we are diversifying our skills and experience from the campervan sector into the commercial van conversion market – in particular with companies who are seeking high quality specialised conversions to vans that are used for commercial purposes. Perhaps vehicles that are built to support onsite employees, conversions that incorporate customer facing facilities or even that are specifically converted for the display of products and entertaining of clients at exhibitions or public shows.
In January 2018 Jerba Campervans became a 100% Employee Owned company, ensuring all our employees have a real voice in the development of the business and also benefit equally from profit sharing. Employee ownership has placed employees at the centre of the business, it has driven up productivity and customer satisfaction whilst reducing reworks and waste. It has been a highly successful move for the company which has also reduced sick days to a negligible amount, provided a huge boost to the recruitment of excellent talent and given us an almost unique marketing edge with a business model that has rapidly growing consumer interest across the UK.
Certified to the Real Living Wage we are also fully accredited to the Good Business Charter, are a signatory to the Scottish Business Pledge and certified annually to the Fair Tax Mark. We work actively with local schools to recruit young people as apprentices within the business and are currently in the process of becoming part of Scotland's Young Person's Guarantee initiative. We are also just beginning the detailed process for accreditation to the international B Corp standard – ensuring our long term commitment to engrained ESG principles and good practice.