CeeD – where 'know how' meets 'can do'
You are here

You are here:
Home > FactoryWiz UK
FactoryWiz UK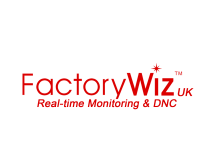 FactoryWiz UK are the sole authorized dealer of the FactoryWiz Monitoring & DNC software in the UK, Europe, UAE and Africa's. FactoryWiz UK Ltd offer full sales, assessment, quotation, development, installation, and support for the product.
FactoryWiz is an Industrial IOT solution that is comprised of two systems, Machine Monitoring software and DNC software.
FactoryWiz Monitoring: FactoryWiz manufacturing software collects data from various machines, displays production data / machine metrics in real-time and allow for historical analysis. Features include:
• Web based system, either local on premise or cloud based.
• Can connect to all machine types (CNC / PLC / Robot / Manual Machinery) using our own advanced protocols.
• Unlimited users and dashboards (no extra cost).
• Open system - Full API and database access for integrating with ERP / MRP / MES systems and others
FactoryWiz DNC: Securely transfer NC programs to and from all types of CNC Machines. It will:
• Only send approved programs.
• Send and receive to different locations so files can be compared.
• Can communicate using RS232 / FTP / SMB Server / FOCAS / Heidenhain.
• Request files from the CNC or operator tablet so they do not need to leave the machine.
The innovative machine Monitoring & DNC product originates from our principle supplier Refresh Your Memory Inc. (RYM) who have been successfully collecting CNC data since their incorporation in 1983. Working together our service, installation, support, and feedback teams ensure a truly circular operation, with our Global clients at heart.