CeeD – where 'know how' meets 'can do'
You are here

You are here:
Home > EGG Lighting
EGG Lighting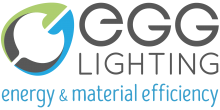 EGG Lighting is a leading provider of B2B commercial lighting and sensor solutions based in Glasgow. Founded in 2013, our focus has been to help UK businesses improve their energy and material efficiency.
Our remanufacturing service takes worn lights and returns them to a higher quality than new ones. Our remanufactured lights come with a 5-year warranty and offer up to 40% cost savings compared to buying replacements. By remanufacturing your lighting system, you can not only decrease energy consumption and material waste, but also improve your carbon footprint. Our modular product range is specifically designed for remanufacturing, ensuring the longevity of your lighting system from the outset.
At EGG Lighting, we are dedicated to staying at the forefront of lighting technology. Our in-house R&D team develops IoT controls, AI-applied sensor options, energy monitoring systems, and much more to future-proof your lighting system.
Our mission is to provide our customers with the best possible return on investment. Our team of expert lighting designers and engineers provide work closely with each client to create bespoke solutions tailored to their unique needs. With a proven track record of successful projects in both the public and private sector, we deliver cost savings averaging 65% and guarantee improvements in energy efficiency.
Book a free, no-obligation site survey and learn more about how EGG Lighting can transform your business.