CeeD – where 'know how' meets 'can do'
You are here

You are here:
Home > Bar Knight Precision Engineers Ltd
Bar Knight Precision Engineers Ltd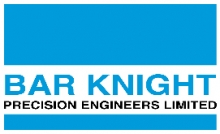 Founded in Glasgow in 1910, Bar Knight Precision Engineers Ltd. is one of the longest established independent engineering companies based it Scotland. Since then, it has evolved to become a top class Precision Engineering company which today offers customers a unique and tailored experience. Their strong customer relationships have been built on dependability, flexibility and the ability to deliver high quality products at competitive prices.
Bar Knight engage with their customers on every stage of the process, from inception to prototyping, through to final production. Their workforce continually strives to find the best way to manufacture, ultimately leading to the most cost effective methods.
One of their key strengths is their flexibility to produce components at short notice and this service is much valued with many of their customers who, at times, have found themselves in stop-ship situations.