CeeD – where 'know how' meets 'can do'
You are here

You are here:
Home > 230927 Trading Zone with NMIS
230927 Trading Zone with NMIS
Join our latest Trading Zone event hosted in partnership with NMIS and the Skills Academy team.
September 27th, 2023 9:00 AM through 3:00 PM
National Manufacturing Institute of Scotland




3 Netherton Square




Paisley

,

PA3 2EF




United Kingdom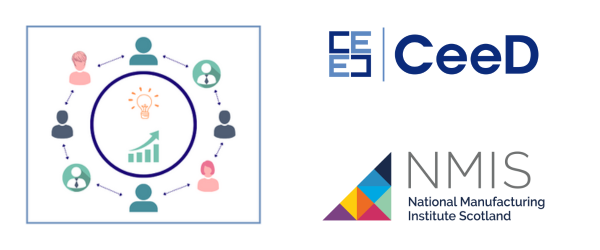 CeeD & the Skills Academy team from NMIS are delighted to be partnering to host the latest 'Trading Zone'… The aim of this unique and innovative event is to fill the room with people and energy to explore and create new business opportunities through partnership and collaboration.
Are you an innovator, support organisation, academic, funder, expert, or established business/manufacturer? Or just interested to see what it's all about?
Our Trading Zone event on 27th September from 9am to 3pm will create a forum for using the power of collaboration to overcome common business problems such as design issues, manufacturing capability, effective supply chains, obtaining funding, and market intelligence.
How will it work on the day?
Professionally facilitated, using interactive activities and discussions, designed to create open discussions and bring together small teams of potential collaborators around business opportunities. The underlying theme is 'Innovation' with a focus on key current challenges around sustainability and digitalisation, and the day will bring together a diverse mix of SME's, Start-ups, Commercialisation partners, Academia, Funders & Investors.
A number of organisations will speed pitch to the audience, which will be followed by break-out Trading Zone sessions, to enable the collaborative discussions to take place.
The event will also provide a fantastic opportunity to see how the new NMIS facility is shaping up and how it will be supporting industry through the challenges and opportunities that lie ahead
How do I join in?
Do you have something to offer or something to ask ...
Do you have a unique or innovative skill, capability or service to offer?

Are you looking for help, or a partner to get an idea off the ground?

Do you have a specific challenge you'd like to solve?

Are you looking to connect and network with other like minded individuals?
Come along with an open mind and a willingness to participate...