CeeD – where 'know how' meets 'can do'
You are here

You are here:
Home > 210805 Scottish Enterprise Briefing: Zero Emissions Heavy Duty Vehicles Funding Competition
210805 Scottish Enterprise Briefing: Zero Emissions Heavy Duty Vehicles Funding Competition
CeeD are running a briefing workshop, in conjunction with Scottish Enterprise, on 5th August - to provide details of a new funding competition.
August 5th, 2021 11:00 AM through 12:00 PM
ONLINE EVENT
via Zoom or Teams
"100% grant support of £30-£50K for feasibility studies."
Scottish Enterprise are launching a new funding competition to support companies developing innovative technologies that can support the roll-out of zero emissions heavy duty vehicles and Scotland's green recovery.
This competition is funded by Transport Scotland and managed by Scottish Enterprise as a national Can Do innovation challenge call, which is open to any eligible organisation in Scotland.
Scottish Enterprise will provide 100% grant support for the eligible project costs to allow companies to undertake detailed design and assess the technical and commercial feasibility of their proposed solution over a period of 3-5 months, with projects starting in November 2021 and completing by the end of March 2022.
Projects can be focused on the development and commercialisation of innovative whole vehicle or sub-system technology solutions.
CeeD are running a briefing workshop on this funding call, in conjunction with Scottish Enterprise. The event is taking place on Thursday 5th August, 11am -12pm, which is your opportunity to find out more about the competition and put any questions you may have to Terry Hogg at Scottish Enterprise.
Hydrogen Vehicle Systems
Daniel Musenga-Grant of Hydrogen Vehicle Systems (HVS) will be also speak at this event. Daniel is the Environmental Lead for Glasgow-based Hydrogen Vehicle Systems, a company that has secured a £5m investment from Beehive Equity to develop two hydrogen-powered, zero emission vehicles that it is hoping to launch in the next two years.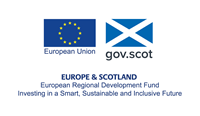 This event is part of the Advancing Manufacturing Cluster Builder (AMCB) programme which supports the advancing manufacturing capabilities of SMEs within Scotland, leading to long-term transformational change.
The Advancing Manufacturing Cluster Builder is part-funded by the 2014–2020 European Structural and Investment Fund. CeeD manages the AMCB programme in partnership with Scottish Enterprise, Highlands and Islands Enterprise and Scottish Government.