CeeD – where 'know how' meets 'can do'
You are here

You are here:
Home > 210518 - CeeD & Opportunity Cromarty Firth's hydrogen working group - The Hydrogen Revolution is here
210518 - CeeD & Opportunity Cromarty Firth's hydrogen working group - The Hydrogen Revolution is here
210518 - CeeD & Opportunity Cromarty Firth's hydrogen working group - The Hydrogen Revolution is here
May 18th, 2021 10:00 AM through 11:30 AM
Webinar
DND
United Kingdom
The Hydrogen Revolution is here
It is time to take a fresh look at one of the fastest growing clean energy markets. With increased Government support for development and industry buy-in creating opportunities, Hydrogen is now seen by many as the fuel of the future.
Key developments in the use of renewable energy to produce hydrogen, and more effective Carbon Capture, Utilisation & Storage (CCUS) facilities, could ensure that blue and green hydrogen become more cost effective as well as being sustainable.
To make this step-change there is a wealth of industry and collaborative opportunities. The demand is NOW for innovative and forward-thinking engineers, manufacturers, distributors, and suppliers to lead the way on a potentially global scale.
Come and join CeeD, Opportunity Cromarty Firth's hydrogen working group and others as we explain the fundamentals of the hydrogen economy as well as offering tangible directions for opportunities across the supply chain.
Date: 18th May'21 Time: 10am to 11:30am Virtual platform: Zoom
Agenda:
An Introduction to new developments in Hydrogen and what it means for the engineering community.

What are the new types of hydrogen & what role will they play in reaching net-zero?

What is happening in Hydrogen – major trends & opportunities - Nigel Holmes, CEO of Scottish Hydrogen & Fuel Cell Association (SHFCA)

Our journey – story of Scottish Gas Network (SGN) and their decision to transition the gas grid to H2 – Colin Thomson, Energy Futures Manager

What is a 'whole system approach' and what does this mean? - Ed MacFarlane & Joanne Allday using Cromarty Firth as an example.

Considerations for engineering

The market is real – current 'live' projects: Pale Blu Dot – ACORN & Cromarty Firth Distilleries Project. Blue & Green H2. Jack Gomersall of Pale Blu Dot

Signposting to other events, resources, webinars etc.

What next? Further event interest? Look at different phases e.g., concept, design, build and decommissioning and impacts for engineering.
Do not miss this opportunity to engage – Please can register below
About the AMCB programme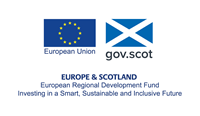 This event is part of the Advancing Manufacturing Cluster Builder (AMCB) programme which supports the advancing manufacturing capabilities of SMEs within Scotland, leading to long-term transformational change.
The Advancing Manufacturing Cluster Builder is part-funded by the 2014–2020 European Structural and Investment Fund. CeeD manages the AMCB programme in partnership with Scottish Enterprise, Highlands and Islands Enterprise and Scottish Government.