CeeD – where 'know how' meets 'can do'
You are here

You are here:
Home > Highland Grain Limited
Highland Grain Limited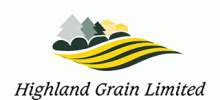 Highland Grain Ltd is well-renowned in the Scotch Whisky Distilling industry for producing the very best quality malting barley. As an agricultural cooperative owned by its 89 members, Highland Grain Ltd exists to dry, condition, store and add value to the arable products produced by its members.
Their core objectives support and add value to member businesses, supply top quality barley to the Scotch Whisky Industry, and provide excellent and cost-effective services to members and customers. Quality is built into the culture at Highland Grain with all member farms Quality Assured under Scottish Quality Crops farm assurance scheme since 1995 and official accreditation to the Trade Assurance Scheme for Combinable Crops from 1999.
Marketing services are provided by Highland Grain (Marketing) Limited, a company registered under the Companies Act and operating from the same premises.