CeeD – where 'know how' meets 'can do'
Kickstart with Quality Scotland
Sowing the 'CeeD' for Business Excellence in 2018
Quality Scotland and CeeD have been working together for the past few years, sharing ideas and best practice as well as developing thoughts on how organisations might be able to grow and flourish with 'collaborative/collective' support.
In 2018 we are delighted to be offering 20 organisations the opportunity to be part of a unique offering bringing together a new network of 20 like-minded organisations collaborating with an excellence approach through a joint Quality Scotland and CeeD membership.
With both organisations operating on a pan-Scotland basis, we are creating a limited 20 new Joint Memberships for SMEs who currently are not members of either organisation.
Joint Membership & Network Offering
For a combined membership fee of £1,800+vat per year [representing a minimum saving of 20% on cumulative individual membership]. Your whole organisation will have access to:
Relationship management through the CeeD Business Development Teams (based regionally)
The opportunity to collaborate with other companies on common challenges
Unique access to companies, giving you the chance to see and learn how it's done elsewhere through "Show and tell" site visits
Professional Development for staff through engaging with peer to peer groups, collaborating to solve each other's issues
Cross-company training & sharing of best practice including guaranteed places (typically 2) on the Growth500 programme.
High-level networking with experienced business people focussing on helping you succeed, not sell to you
Access to Clinic meeting minutes and presentation materials
Access to the Members' online forum
Your company's logo and profile (including a link back to your website) on CeeD's website
Access to a dedicated, experienced Account Director who will provide guidance and expertise on implementing business improvement approaches and help you along your business improvement journey
A 'How to Get Started' presentation to senior management and staff
Special programme rates for training, events, publications, access to Quality Scotland's online self-assessment packages and the hire of the Quality Scotland Training Academy
Opportunities to share best practice through a range of networks, themed groups and webinars
Support with implementing EFQM to gain formal recognition through the EFQM Levels of Excellence Programme and the prestigious Scottish Awards for Business Excellence
Access to a selection of case studies across Scotland, the UK and globally
Opportunity to profile your organisation through the QS communication channels
The opportunity to become an EFQM Assessor and take part in external assessments of other organisations
Access to a unique joint network that will agree and shape how membership with both CeeD and Quality Scotland can meet your collective needs.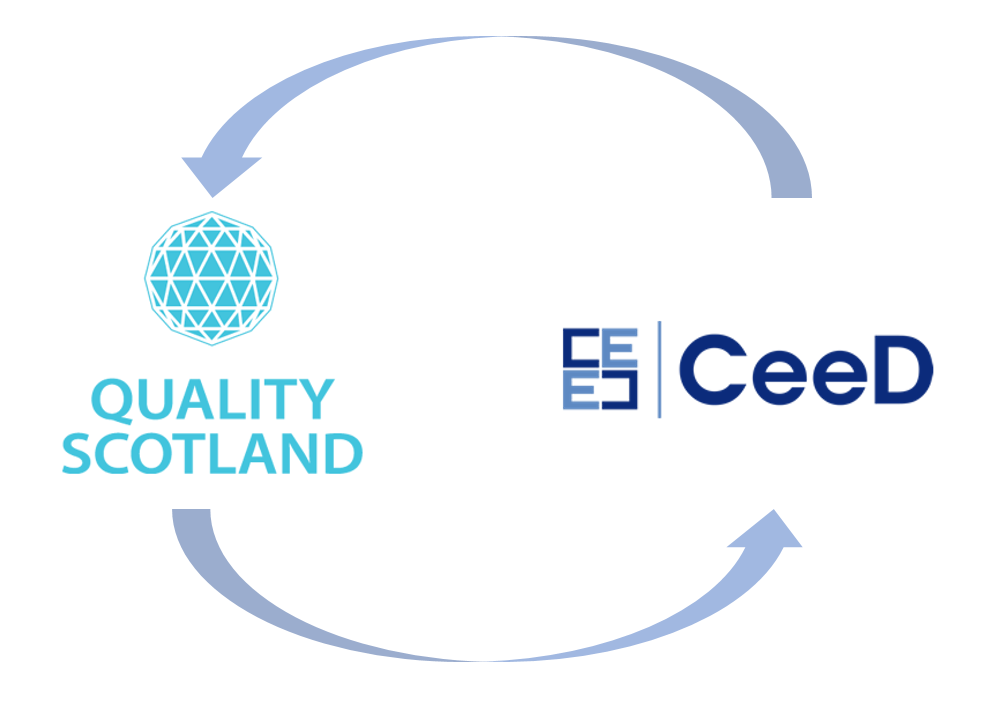 The joint membership will give organisations a unique opportunity to accelerate their learning through classroom and clinic sessions as well as practical site visits within a strong approach based on peer-to-peer activity. The ability to develop staff more formally through the EFQM Excellence Model and the Growth500 programme will offer a structured journey towards accredited qualifications
There are only 20 places available for SME organisations with less than 250 employees so for more information or to apply contact CeeD and/or Quality Scotland to make the most of this fantastic opportunity:
CeeD
Joe Pacitti Tel: 01698 203 420 Mobile: 07975 694405Dave Nicholson Mobile: 07539 922495
Quality Scotland
Quality Scotland
Tel: 0131 225 5765
If you are interested in this joint membership opportunity but your organisation does have >250 employees, please contact Quality Scotland in the first instance via email at info@qualityscotland.co.uk or by telephone to 0131 225 5765 to discuss further.